%% indicator.name %%

%% profCtrl.getIndicatorValue(indicator) %%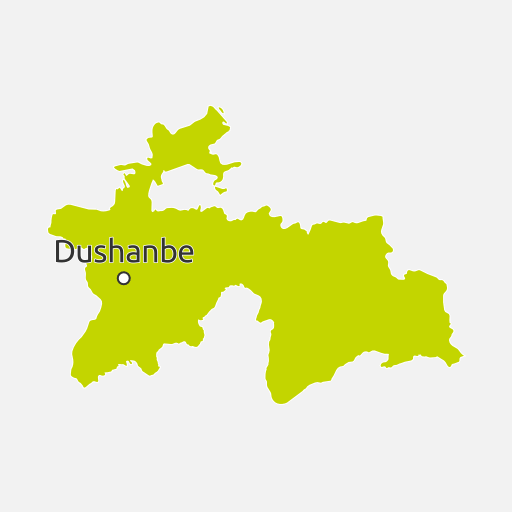 Description
Tajikistan is offering tax incentives to investors and a lower cost of borrowing to consumers in an effort to promote the use of renewable energy and energy efficient technologies. In June 2013, through the United Nations Development Program's Sustainable Energy for All initiative, the country set a renewable energy generation target of 20% by 2030. By 2016, having achieved over 90% of its 2012-2016 target for small-hydro installation, Tajikistan's government approved a further renewable energy programme for 2016-2020. This includes over 63MW of small hydro projects and 4.3MW of solar to be built over the next five years.
The land-locked nation has historically focused on developing hydro plants and this trend is expected to continue. Out of 17.2TWh generated in 2015, 96% came from large hydro and 2.5% from renewables, which is mainly small hydro plants of up to 30MW capacity. Tajikistan's power sector is dominated by the state-owned Barqi Tojik (BT), a vertically integrated monopoly that distributes electricity to 99% of grid-connected consumers in the country. The utility is in poor financial health due to low subsidised tariffs, losses on transmission and distribution services, and collection rates as low as 60%. The national energy strategy calls for BT's restructuring as well as increased tariffs starting in 2017. Work is being done to promote private-public partnerships, of which Pamir Energy is the country's first example.
Tajikistan struggles with power shortages in winter, when the large hydro plants operate at reduced capacity and oversupply in the summer months. CASA 1000, a new transmission line connecting Kyrgyzstan, Tajikistan, Pakistan and Afghanistan due to be built in 2018, will help reduce the oversupply in summer by selling excess generation to Pakistan and Afghanistan. Diversity of energy sources is also on the agenda, with coal one of the favoured options. Dushanbe 2 – 100MW coal-fired power plant came into operation 2014. Stage two is a 300MW expansion due in 2016.
On 25 June 2013, the Asian Development Bank approved a $10m grant to Tajikistan for the promotion of smart green energy solutions (SGES) in households through soft loans. The Ministry of Finance has established a project management unit to channel the funds to micro-finance institutions (MFIs). The grant includes project implementation support of $1.2m, and $8.8m for five-year, local currency credit lines to selected MFIs that will then channel funds to rural households. The interest rate on the credit lines will be the National Bank of Tajikistan refinancing rate, currently 9% but it will be reset annually. The MFIs will also tie up with NGOs, suppliers and manufacturers of SGES. The fund works well for energy-efficiency projects: rural residents have been making use of the credit line to install plastic windows and doors. However, for renewable technologies it has proved less effective: only eight solar PV installations of 2-3 KW have been supported by the scheme so far. This is due to the high cost of the equipment and still expensive credit of 24-26% APR.
Tajikistan also extends various tax benefits to hydro-plant developers. Imported goods for the construction of hydro-power stations are exempt from VAT and customs duty. For the period of construction of a hydro-power station, the builders and construction contractors (including employees) who are not citizens of Tajikistan are exempt from VAT, profit tax, minimum income tax, as well as land, road, vehicle, real estate and social tax. Also, manufacturers, irrespective of the goods produced, are exempt from profit tax for a number of years after registration, based on the amount of investment they make.
Score summary
Tajikistan scored 0.67 in Climatescope 2016, a minor improvement on the previous year. It placed 53rd on the list of countries overall, seven places lower than in 2015. Its best performance by far was on Greenhouse Gas Management Activities Parameter IV.
On Enabling Parameter I, the country's score slid. Its weakness in this area – it ranked 56th out of 58 countries – reflects its unreformed state-owned power system, with minimal clean energy and distributed energy policies.
Tajikistan also placed 56th on Clean Energy Investment and Climate Financing Parameter II. Between 2011 and 2015, its clean energy sector did not attract any investment, and only a very small volume of loans and grants. The average cost of debt is very high at almost 26%.
On Low-Carbon Business & Clean Energy Value Chains Parameter III, the country's score fell and it lost eight places to take 54th. The only sector represented among the handful of value chains is small hydro.
Tajikistan's score more than doubled on Parameter IV and it rose seventeen places to rank 22nd. This was largely due to the introduction of an emission reduction target and market-based policies to deliver GHG mitigation.
Performance
Overall Rank

%% statsCtrl.countryStats.overall_ranking | leadingZero:2 %%

Regional Rank

%% statsCtrl.countryStats.regional_ranking | leadingZero:2 %%

Score

%% statsCtrl.countryStats.value | round:2 %%