%% indicator.name %%

%% profCtrl.getIndicatorValue(indicator) %%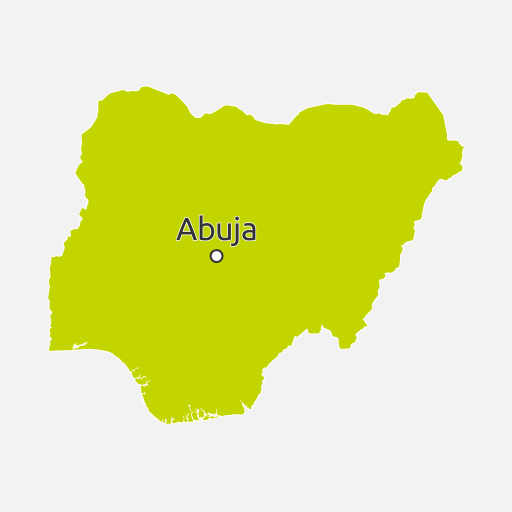 Description
At year-end 2015, Nigeria had installed electricity capacity of 11.5GW, of which 11.9% was large hydro, 0.6% small hydro and 87.5% fossil fuels. From that base, around 4GW are technically available on average throughout the year to generate electricity.
Nigeria is currently trying to create an enabling environment which will lead to an increase of grid capacity. As of year-end 2015, Nigeria still doesn't have any renewable energy projects connected to the grid except for large hydro.
Over 14 Independent Power Producers (IPP's) developing on-grid solar production facilities (75-100 MWp each) are awaiting official approvals and power buy back arrangements from government. The Lagos Solar project, a joint investment of Lagos State Electricity Board (LSEB) and the UK Department for International Development (DFID), has installed nearly 5 MWp of solar generated off-grid power for 172 schools and 11 clinics within Lagos State. An additional 1.5 MWp is being installed at public health clinics in Kaduna State under the Solar Nigeria programme. However, there are many small scale (<50kW) solar PV mini-grid and rooftop PV projects distributed across the country built with small loans issued by the Bank of Industry and other lenders.
Given that 2015 was an election year, things have been rather slow from a policy perspective. In 6 May 2016, the president, Muhammadu Buhari signed the countries 2016 budget of 6.1 trillion Naira ($30.6 billion) almost six months after proposing it. Now this has been signed, the ministries can get to work. N422 billion has been budgeted to the recently combined ministry of Works, Power and Housing.
In Q2 2015 the Federal Executive Council (FEC) approved Nigeria's first ever renewable energy specific policy, the National Renewable Energy and Energy Efficiency Policy (NREEEP) for the Nigerian power sector. The NREEEP is a qualitative policy which doesn't contain hard numbers. Rather, it mandates a direction and which instruments (feed-in tariffs, energy targets, etc.) will exist. Though the NREEEP does specify that by 2020 the aim is to achieve a total on-grid installed capacity of 33GW of which 11% is planned to come from renewables, this figure has been revised down from the previous 40GW by 2020 and 10% renewables (Nigeria 20:2020 Vision policy).
Following the approval of the NREEEP, the relevant ministries have begun work on the National Renewable Energy Action Plan (NREAP) document which is intended to quantify targets and Feed-in tariff values. The NREAP was expected to be completed before the end of 2016 for the FEC approval. Once approved, the funds required for the action plan will be included in the annual national budget signed by the president.
In November 2015, Nigeria introduced a Feed-in tariff for small scale grid-connected renewables over 1MW. The tariff applies to projects less than of 30MW, 10MW and 5MW for small-hydro, onshore wind (and biomass) and solar PV respectively. However this tariff is very unlikely to be adopted as the Feed-in tariffs will be paid directly by one of Nigeria's 11 distribution companies (depending on location) and not by the government-backed bulk trader, NBET. In the current climate, the distribution companies come with pretty high risks due to them having to deal directly with consumers who often struggle with payments, so when modelling out a 20 year plus project, the cash flow guarantee becomes less bankable.
The good news is there is approximately 1.2GW i.e. 15 utility scale solar projects, which have gone quite far in the PPA negotiation process and have all managed to secure generation permits from the Nigerian Electricity Regulatory Commission (NERC). Due to the pro-longed negotiation process and in order to reduce the cost of renewables to the consumer, the Nigerian Bulk Electricity Trader (NBET) plan to carry out closed competitive reverse power auctions to determine what to pay these projects. NBET plan to award PPAs to the cheapest 500MW of the competing 1.2GW. The remaining 700MW will compete in another open auction with possibly new competitors to take place by year-end 2016. The tariffs underwritten by NBET will be paid in Nigerian Naira but denominated in USD, hedging out exchange rate risk. Once contracts are signed they will be implemented based on their contracted operation date, penalties will apply to developers who do not meet their commercial operations deadline. Realistically we expect construction of these projects to commence in Q1 2017 and operation by early Q3 2017.
Score summary
Nigeria scored 1.34 in Climatescope 2016 and ranked 30th on the list of countries overall. This was a descent of eighteen places and largely reflected the country's low score on Clean Energy Investment and Climate Financing Parameter II, which plummeted in the absence of new investment.
On Enabling Framework Parameter I, the country's score fell slightly and the country dropped twelve places in the ranking. Nevertheless, the Policy and Regulation category saw some modest improvements, for instance in its tax regime and distributed energy framework.
In a reversal of the scenario in the previous year, Nigeria's score on Parameter II tumbled to less than a quarter of its 2015 tally as new investment failed to materialise. It dropped forty-four places to rank 51st out of the 58 nations surveyed for Climatescope 2016.
The country score on Low-Carbon Business & Clean Energy Value Chains Parameter III remained unchanged, ranking 13th and fourth amongst African nations.
Nigeria's only positive performance was on Greenhouse Gas Management Activities Parameter IV. It climbed seven places to 24th thanks to improved scores in the Corporate Awareness category.
Performance
Overall Rank

%% statsCtrl.countryStats.overall_ranking | leadingZero:2 %%

Regional Rank

%% statsCtrl.countryStats.regional_ranking | leadingZero:2 %%

Score

%% statsCtrl.countryStats.value | round:2 %%