%% indicator.name %%

%% profCtrl.getIndicatorValue(indicator) %%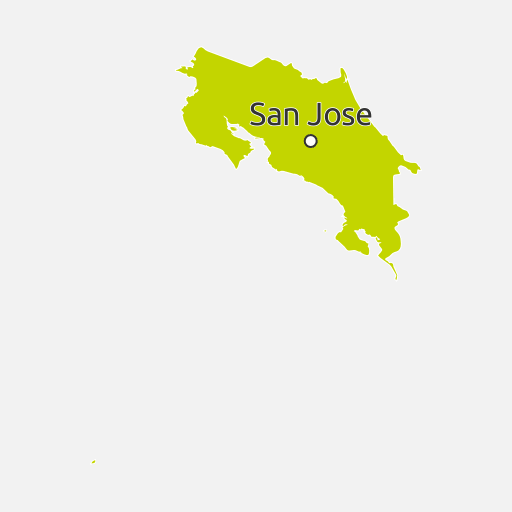 Description
Costa Rica has committed to becoming the world's first carbon-neutral economy by 2021, with renewable energy playing an important role in that commitment. The country aims to have a 100% renewable energy (including large hydro) matrix by 2030. Already, large hydro is the main source of generation in the country, accounting for 53% of the 10.7TWh generated in 2015.
Costa Rica's electricity market is controlled by state-owned Instituto Costarricense de Electricidad (ICE), a vertically integrated utility. The Costa Rican market includes cooperatives involved with generation and distribution and independent power producers selling electricity to ICE.
Costa Rica is part of the Central American Regional Market (Mercado Eléctrico Regional, MER), which interconnects seven countries via the Central American Electrical System (SIEPAC). In 2015, unlike the previous year, Costa Rica had a surplus in the regional market, with 280MWh sold to the region and only 172.5MWh imported. Due to severe droughts, Costa Rica relied on MER to help meet its domestic electricity needs in 2014, when 251MWh was imported and 69.7MWh exported.
In 2015, the country met 99% of its power demand with renewable resources, including large hydro. In that year, it had 3.1GW of installed generating capacity – large hydro accounted for 44%, small hydro, geothermal, wind, biomass and solar accounted for another 36%, with oil-based power representing 20%.
On 30 September 2015, the government submitted its Intended Nationally Determined Contribution (INDC) to the United Nations, in which it reaffirmed the country's carbon neutral goal and committed to a maximum of 9MtCO2e net emissions by 2030. The proposed emissions per capita is 1.73 net tons by 2030, 1.19 net tons per capita by 2050 and -0.27 net ton per capita by 2100. In order to neutralise emissions, Costa Rica has developed a voluntary GHG registry and a "C-Neutral" certificate scheme for entities that offset their emissions. It has also put in place a voluntary trading scheme in which reforestation credits can be sold to organisations wanting to offset emissions. The carbon neutrality commitment was first announced in Costa Rica's National Climate Change Strategy, launched in 2007.
Costa Rica offers exemptions on import, value added and income tax for selected renewable energy materials and equipment. ICE periodically holds tenders to contract new clean energy capacity. A net metering programme is also in place, allowing retail electricity customers to install self-generation facilities, interconnect with the utility grid, deliver surplus generation to the grid and obtain compensation in the form of a billing credit.
Score summary
Costa Rica scored 1.51 in Climatescope 2016, an improvement of just 0.02 on its 2015 tally. It dropped five places to 20th overall, and its highest ranking was on Greenhouse Gas Management Activities Parameter IV.
On Enabling Framework Parameter I, Costa Rica's score was slightly better, but it declined eight places to 18th. The country added 1.1GW of new clean energy capacity in 2015, which had a positive impact on four out of six indicators in the Clean Energy Penetration category.
The country's score on Clean Energy Investment and Climate Financing Parameter II was marginally higher, reflecting a relatively healthy investment picture – $258m of new money was recorded, all of which was destined for the geothermal sector. It ranked 21st.
On Low-Carbon Business & Clean Energy Value Chains Parameter III, Costa Rica's score was unchanged at 1.92 and it placed 25th. There is a range of manufacturers, developers and service companies present in the country.
The country's relatively strong set of carbon policies, plus its carbon offsetting efforts, produced a score of 2.18 on Parameter IV, which placed it 15th globally.
Performance
Overall Rank

%% statsCtrl.countryStats.overall_ranking | leadingZero:2 %%

Regional Rank

%% statsCtrl.countryStats.regional_ranking | leadingZero:2 %%

Score

%% statsCtrl.countryStats.value | round:2 %%