%% indicator.name %%

%% profCtrl.getIndicatorValue(indicator) %%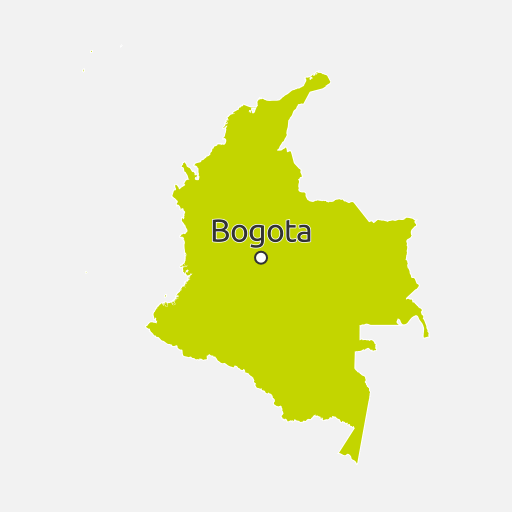 Description
With its reliance on large hydroelectric generating plants, Colombia has offered relatively weak policy support to other forms of low-carbon energy. The renewable energy and energy efficiency law enacted in 2015 may mark a turning point for non-conventional renewable energy integration in Colombia.
In June 2010, the country set a target of 6.5% on-grid and 30% off-grid non-large hydro renewable power consumption by 2020. In addition, Colombia enforces blending mandates of 10% biodiesel with conventional diesel and 10% ethanol with conventional gasoline. As of 2015, Colombia had total installed capacity of 16.3GW. In that year, large hydro represented 63% of the 66.5TWh generated, with natural gas as the second most important source, at 25% of generation. Clean energy accounted for 5% of generation, mostly coming from small hydro, and to a lesser degree from biomass and wind.
Under a December 2002 law, biomass and wind energy generators with projects registered under the UN's Clean Development Mechanism (CDM) may receive income tax and import duty exemption. On 13 May 2014, law 1715 was enacted, establishing legal frameworks and instruments to promote and integrate non-conventional renewable energy (NCRE) into the national energy system. The incentives established in the law were set in November 2015 and include income tax exemption, accelerated depreciation of assets, value-added-tax exemption and import duty exemption. A fund was also created for financing clean energy and energy efficiency programmes. Colombia defines NCRE as biomass and waste, geothermal, small hydro, tidal and wave.
The capital city, Bogotá, in 2011 enacted a law exempting electric vehicles (EVs) from usage limits applicable to conventional vehicles to try to reduce congestion. In 2013, a government decree exempted EVs from import duty and created a five-year pilot programme for EV taxi deployment.
On 7 September 2015, the government of Colombia submitted its Intended Nationally Determined Contribution (INDC) to the United Nations, committing unconditionally to cut greenhouse gas (GHG) emissions by 20% relative to the business as usual (BAU) scenario by 2030. It is prepared to increase this target to 30%, subject to availability of international support. Since 2013, Colombia has been working on developing a system for monitoring, reporting and verification of GHG emission reductions and climate financing.
Score summary
Colombia scored 1.45 in Climatescope 2016, placing it 22nd on the list of 58 countries, down from 19th the previous year. Its score in 2015 was 1.39. The country achieved it highest ranking on Greenhouse Gas Management Activities Parameter IV.
On Enabling Framework Parameter I, Colombia's score made modest gains but it slipped one spot to 27th. An additional energy access policy and a modest increase in the volume of installed capacity were supportive factors.
The country's score on Clean Energy Investment and Climate Financing Parameter II fell slightly, and it slid eleven places to 39th. This reflects the absence of new investment in 2015, having seen more than $100m in each of the two preceding years, as well as a slight rise in the average cost of debt.
On Low-Carbon Business & Clean Energy Value Chains Parameter III, Colombia's score rose slightly but its ranking dropped by one place to rank 23rd. A wide range of value chains are covered.
The country's score on Parameter IV was slightly lower, and it fell two notches to a still-strong 7th. It has adopted a broad range of carbon policies and has engaged in considerable carbon offsetting activity.
Performance
Overall Rank

%% statsCtrl.countryStats.overall_ranking | leadingZero:2 %%

Regional Rank

%% statsCtrl.countryStats.regional_ranking | leadingZero:2 %%

Score

%% statsCtrl.countryStats.value | round:2 %%