%% indicator.name %%

%% profCtrl.getIndicatorValue(indicator) %%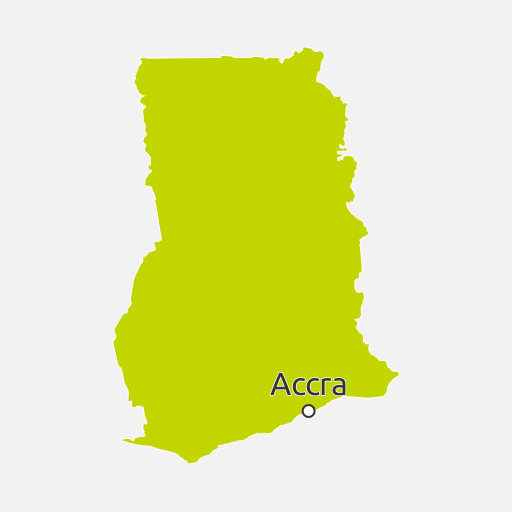 Description
Despite Ghana having one of the more liberalized power sectors in Africa, it continues to face inefficiencies in generation, transmission and distribution. State utilities continue to fall further into debt while utility-scale renewable energy deployment remains nascent. Since 2006, the country has added 1.2GW of oil, diesel and gas power projects but only 2.5MW of solar. Climate change and maintenance issues have also drastically reduced the available generation from its hydropower plants. The country needs to address broader macroeconomic issues, stemming from lower economic growth, if it wishes to facilitate the successful roll-out of renewable energy projects.
Until late 2013, when Ghana's first utility-scale PV plant came online, renewable energy production came solely from distributed PV generation, which currently amounts to about 5MW across thousands of small installations. This distributed capacity was built through both on- and off-grid development aided by Ghana's Energy Development Access Project (GEDAP) and has contributed to the country's electrification growth rate, which stands at 68% in 2016. From a policy perspective the feed-in tariff (FiT) program has not lived up to expectations. This is partly due to state-owned Volta River Authority (VRA), Electricity Company of Ghana (ECG) and GridCo falling further into debt and being unable to meet their payment obligations.
In 2016, the Ministry of Power announced that it intended to amend the current FiT contract period for solar projects to 20 years, which has been well received by developers. Consumers, on the other hand, have had a tougher time. As part of the three-year aid deal with the IMF, in December 2015, the Public Utilities Regulatory Commission controversially increased the electricity tariff by 59%.
The country has set an overall power generating target of 5GW of capacity by 2016, and a 10% renewables share by 2020. The first target will not be met, while the renewable energy 2020 target appears to be an ever increasing uncertainty. Grid capacity is a major stumbling block that is being addressed through impact studies. The UNEP estimates that the grid is at near maximum load capacity and can only accommodate up to 220MW of variable solar PV. Technical and infrastructure issues aside, climate change is also affecting the production ability of the power sector. The 1GW hydro facility located on the Akosombo dam has traditionally dominated the generation mix, providing 30% of capacity. This is now changing as two seasons of drought and turbine defaults have meant that only 340MW is online.
In 2011, the government introduced the Renewable Energy Act, which comprises five main components all aimed at incentivizing renewable energy investment in the country. They are the FiT, a yet-to-be finalized renewable-energy purchase obligation, renewable-energy fund, biofuels blending and net metering. In 2016, the government submitted its unconditional Intended Nationally Determined Contribution (INDC), committing to cut greenhouse gas emissions by 12% by 2025 and 15% by 2030 compared to a business-as-usual (BAU) scenario.
Score summary
Ghana scored 1.34 in Climatescope 2016, ranking it 29th on the list of countries overall, one place below its position in 2015. The country's best performance came on Low-Carbon Business & Clean Energy Value Chains Parameter III.
On Enabling Framework Parameter I, the country climbed fifteen places to rank 21st. Its score benefited from improvements in policy and regulation, including the introduction of energy targets, as well as a growing national electrification rate.
It was a similar story on Clean Energy Investment and Climate Financing Parameter II. The country leapt twenty places to 30th, reflecting the injection of $24.3m into the solar sector, almost doubling overall clean energy investment since 2011.
Ghana's Parameter III score saw a slight improvement, reflecting, among other things, the relatively diverse range of clean energy project developers operating in the country. Its ranked remained unchanged at 20th place.
On Greenhouse Gas Management Activities Parameter IV, the country sank eleven places to 26th overall on account of a poorer performance in the Carbon Offsets category.
Performance
Overall Rank

%% statsCtrl.countryStats.overall_ranking | leadingZero:2 %%

Regional Rank

%% statsCtrl.countryStats.regional_ranking | leadingZero:2 %%

Score

%% statsCtrl.countryStats.value | round:2 %%